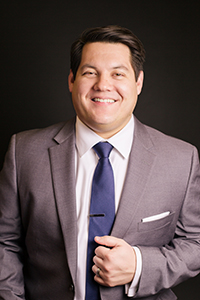 Leland K. Faux represents health care providers and small businesses. He obtained a bachelors of science degree in economics at Brigham Young University where he also completed his law degree. While in school, he was active in the startup and health care management communities.
Leland worked in the legal department of the largest health system in the Intermountain West. Since that time, Leland has represented health care providers in the Las Vegas area. Some of his favorite experiences in health care have been shielding a practice from unwarranted government inspections, successfully representing a doctor against medical board complaints and malpractice suits, and generally helping health care providers keep the money that everyone else is trying to take away.
Leland protects doctors' interests by review contracts, assisting in regulatory compliance efforts, and providing general legal counseling. Leland is a member of the American Health Lawyers Association, the Nevada State Bar – Health and Insurance Section, the Nevada Medical Group Management Association, and Las Vegas HEALS.
Leland wants to see your business succeed. He does this by helping businesses improve business processes, eliminate waste, understand risks, clarify goals, and establish clear relationships with their vendors and employees. In other words, he helps small businesses avoid situations that will make them lose money unnecessarily.
In Leland's experience, business owners do not realize they need an attorney until it's too late and too expensive. As an attorney, Leland helps business identify these legal needs in annual legal audits. He has also developed legal plans that allow business owners to have access to legal care at predictable prices.
As a supporter of small business, Leland created Small Business Stories, a podcast where small business owners share how they got started, overcame challenges, and found success. They also share tips and insights for current or future small business owners.
Leland is generally litigation adverse–meaning that he prefers to resolve disputes without having his clients have to fund litigation. However, when this is not possible, Leland is willing to vehemently protect his client's interests through the courts. In fact, in one of his first assignment as an attorney, Leland successfully defended a business from a $2.8 million dollar claim through motion practice. Although he describes litigation as a slow, careful walk through Hell, he is certainly not afraid to accompany his clients through that Hell to protect their rights and interests.
HIPAA Training for Humans, (available for your office)
HIPAA Compliance Basics – NV MGMA
Fraud & Abuse Basics – NV MGMA
HIPAA Security Compliance – AIS HIPAA Seminar
Brigham Young University, J. Reuben Clark Law School, Provo, Utah, J.D.
Brigham Young University, B.S. Economics