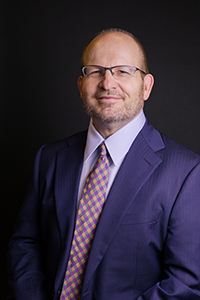 "Be wise."
AV Rated attorney Kurt Faux helps clients regulate disputes, preferably before litigation. Hard work has always been the driving force in Kurt's success and passion for learning – having grown up in a small farming town of Pleasant Grove (Manila), Utah. A voracious reader and gifted athlete, Mr. Faux has always enjoyed the merits of discipline, work and education.
It is no surprise that his experiences working on farms and construction bolstered by an appreciation of exceptional writing and analyses are some of the qualities that have contributed to his passion for the law and its practice. In 1995, nine years after graduating from Brigham Young University Law School, Kurt opened a boutique law firm that focused on complex surety law, construction and general litigation. His practice would soon grow and become a nationally recognized firm in these areas of practice.
Mr. Faux's practice is devoted to the representation of sureties, insurers, contractors and others involved in the construction industry. Mr. Faux represents a number of construction trade organizations in various matters before courts and governmental entities. He has represented the Southern Nevada Air Conditioning Refrigeration Service Contractors Association and the Plumbers and Mechanical Contractors of Nevada. Mr. Faux served as lead trial counsel for the Associated Builders and Contractors in its lawsuit against Nevada's Governor, the Southern Nevada Water Authority and various unions to overturn state mandated project labor agreements. The National Spa and Pool Institute retained Mr. Faux to successfully defeat, through litigation, ordinances enacted by the City of Las Vegas.
Kurt C. Faux is an invited speaker to and has written papers for numerous groups concerning surety bonds, Nevada construction law, and legal ethics. He has also conducted in-house seminars for various sureties and construction associations.
Surety Bond and Indemnification
Construction Law
Litigation & Appeals
Health Care Law
Small business representation
85% of Practice Devoted to Litigation
Utah, 1987
Nevada, 1988
U.S. District Court District oh Utah, 1987
U.S. District Court District of Nevada, 1988
U.S. Court of Appeals 9th Circuit, 1988
U.S. Court of Federal Claims, 1992
U.S. Supreme Court, 1993
U.S. Court of Appeals 10th Circuit, 2014
Brigham Young University, J. Reuben Clark Law School, Provo, Utah
J.D. – 1987
Journal of Legal Studies, Editor, 1985
BYU Law Review, Member, 1986
Brigham Young University-Hawaii
B.A. (Magna Cum Laude) – 1982
The Law of Motor Vehicle Dealer Bonds (2006), American Bar Association, Nevada Chapter.
Performance Bond Manual (2006), American Bar Association (ABA), Nevada Chapter
Application of Insurance Bad Faith Principles to Surety and Fidelity Claims Handling -or- Surety and Bad Faith Claims Handling Revisited — You've Got to be Kidding, Co-Author, Southern Surety and Fidelity Claims Conference, 1992
Classes and Seminars
Pearlman Association: Prescriptive and Performance Specifications. Seattle, WA, September 6, 2018
PHCC of Nevada: Getting Paid: Three Statutes You Need to Know. Las Vegas, NV, November 11, 2014
ABA Mid-Winter Program: What Were They Thinking?, Enforcement of the Surety's Indemnity Rights, Part II. Waldorf Astoria Hotel, New York, NY, January 24, 2014
ABA Forum on the Construction Industry 2013 Regional Program: The Fundamentals of Construction Law. Las Vegas, NV, November 8, 2013
Surety Claims Association of Los Angeles: Traps for the Unwary: Handling Nevada and Utah Surety Bonds. Los Angeles, CA, March 2013
State Bar of Nevada: Construction Law Newsletter: Introduction to Construction Bonds in Nevada. Nevada, July 2010
The Seminar Group: Nevada Construction Law: Surety Bonds. November 16, 2001
National Business Institute: Mechanics' Lien Law and Strategies in Nevada. August 2, 2000
Western Regional Conference: Surety Bond Issues, Credit Managers Association. July 24, 2000
The Seminar Group: Nevada Construction Law. July 14, 2000
National Business Institute: Nevada Construction Law. September 21, 1999
Law Seminar International: Nevada Construction Law. June 24, 1999
National Business Institute: Mechanics' Lien Law and Strategies in Nevada, Including Performance Payment Bond, (Public) Subdivision, and Miscellaneous Bonds. May 21, 1999
National Business Institute: Practical Legal Ethics in Nevada. December 9, 1998
National Business Institute: Nevada Construction Law. 1998
Law Seminar International: Nevada Construction Law. June 25, 1998
National Business Institute: Practical Legal Ethics in Nevada. December 19, 1997
Mr. Faux is on the board of directors of the following associations:
Plumbing Heating Cooling Contractors Association of Nevada, board of directors.
Surety and Fidelity Association of Nevada, board of directors
Quail Summit HOA Board, V.P.
President of the Shea at Warm Springs POA
Kurt Faux is also a proud member of the following associations:
Surety Associations:
Pearlman Association
Surety Claims Association of Los Angeles
Surety Claims Institute
Regularly Attends Western States Surety Conference
National Bond Claims Association
Construction Associations:
Mechanical Contractors Association of Las Vegas
Professional Memberships:
Nevada Court Annexed Panel of Arbitrators, 1992 – Present
Nevada State Bar, Attorney Disciplinary Committee, 1993 – 2002
Nevada State Bar, Attorney Fee Dispute Committee, 1999 – Present
American Bar Association, Forum Committee of the Construction Industry
American Bar Association, Fidelity and Surety Law Committee
Healthcare Law section of the American Bar Association
Defense Research Institute
Health Care Associations:
ACHE Nevada Chapter
Las Vegas HEALS
Nevada Medical Group Management Association
Other Associations:
Las Vegas Chamber of Commerce
Henderson Chamber of Commerce
United States Tennis Association
Boy Scouts of America
Representative Cases
Capitol Indem. Corp v. State, Dept. of Business and Industry, Consumer Affairs Div., 122 Nev. 815, 138 P.3d 516 (2006)
Trustee of Const. Industry and Laborers Health and Welfare Trust v. Summit Landscape Companies, Inc, 309 F.Supp.2d 1228 (D. Nev. 2004)
Trustees of Cement Masons and Plasterers Health and Welfare Trust v. Fabel Concrete, Inc., 159F. Supp.2d 1249 (D.Nev.2001)
Transamerica Premier Ins.Co.v.Nelson, 878 P.2d 1314
Capitol Indem. Corp. V. State, Dept. of Business and Industry, Consumer Affairs Div., 122 Nev. 815; 138 P.3d 516 (2006)
United States v.D Bar D Enterprises, Inc., 772 F.Supp. 1167 (D. Nev.1991)
Transamerica Premier Ins.Co. v. Nelson, 110 Nev. 951; 878 P.2d 314; (1994)
Trs. of the Cement Masons & Plasterers Health & Welfare Trust v. Fabel Concrete, Inc., 159 F. Supp. 2d 1249 (D.Nev.2001)
Nevada State Public Works Board v. Addison, Inc and National Fire Ins. Co., (2006)
Western Ins.Co.v.Saratoga Homes.
In re Mirage Volcano (resolved alleged waterproofing defect in Mirage volcano interior by shifting primary responsibility to liability insurance carriers)
In re MGM Hotel (successfully defended claims against surety through 9th circuit court of appeals against MGM's allegations of delay related damages for principal's interference with grand opening of hotel)
Capitol Indem. Corp v. State, Dept. of Business and Industry, Consumer Affairs Div., 122 Nev. 815, 138 P.3d 516 (2006)
Trustee of Const. Industry and Laborers Health and Welfare Trust v. Summit Landscape Companies, Inc, 309 F.Supp.2d 1228 (D. Nev. 2004)
Trustees of Cement Masons and Plasterers Health and Welfare Trust v. Fabel Concrete, Inc., 159F. Supp.2d 1249 (D.Nev.2001)
Transamerica Premier Ins.Co.v.Nelson, 878 P.2d 1314
U.S. v. D Bar D Enterprises, Inc., 772 F.Supp. 1167 (D. Nev. 1991)
Capitol Indem. Corp. V. State, Dept. of Business and Industry, Consumer Affairs Div., 122 Nev. 815; 138 P.3d 516 (2006)
United States v.D Bar D Enterprises, Inc., 772 F.Supp. 1167 (D. Nev.1991)
Transamerica Premier Ins.Co. v. Nelson, 110 Nev. 951; 878 P.2d 314; (1994)
Trs. of the Cement Masons & Plasterers Health & Welfare Trust v. Fabel Concrete, Inc., 159 F. Supp. 2d 1249 (D.Nev.2001)
Nevada State Public Works Board v. Addison, Inc and National Fire Ins. Co., (2006)
Western Ins.Co.v.Saratoga Homes.
In re Mirage Volcano (resolved alleged waterproofing defect in Mirage volcano interior by shifting primary responsibility to liability insurance carriers)
In re MGM Hotel (successfully defended claims against surety through 9th circuit court of appeals against MGM's allegations of delay related damages for principal's interference with grand opening of hotel)
Associations
Southern NV Air Conditioning Refrigeration Service Contractors Assoc.
Plumbers and Mechanical Contractors of Nevada
Associated Builders and Contractors
The National Spa and Pool Institute
Sureties
Accredited Surety and Casualty Co., Inc
Travelers Bond and Financial Products
Liberty Mutual
Great American Insurance Company
Merchants Bonding Co.
Capitol Indemnity Corporation
SureTec Insurance Co.
HCC Surety Group
Hudson Insurance Group